APARTMENTS IN COLLEGE PARK, MD
Newly renovated apartments just minutes away from UMD
Seven Springs Apartments offers premier comfort and convenience with a variety of garden, mid-rise, and high-rise apartments in College Park, MD. Whether you're looking for a studio, one-, two- or three-bedroom home, you'll easily find a layout that caters to your lifestyle among our thoughtfully designed floor plans. Enjoy brand-new outdoor spaces, free parking, on-site daycare, and much more. Unwind and recharge in the comfort of your newly renovated residence. Or even better—reach all your favorite destinations in town in just a few minutes. Located on Cherry Hill Road, our apartments have easy access to the Capital Beltway, are directly connected to Baltimore Avenue, and enjoy the convenience of a metro bus stop right on site.
Step into a world of comfort at Seven Springs! Give us a call to find out what else awaits you here or stop by for a tour.

Professionally managed by: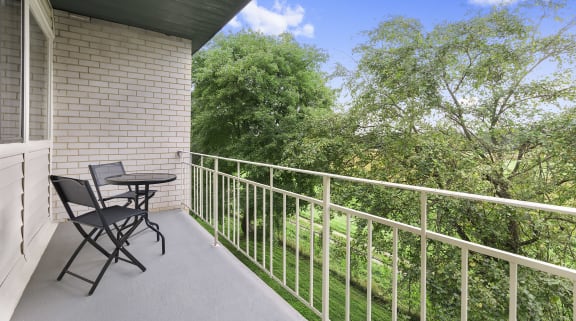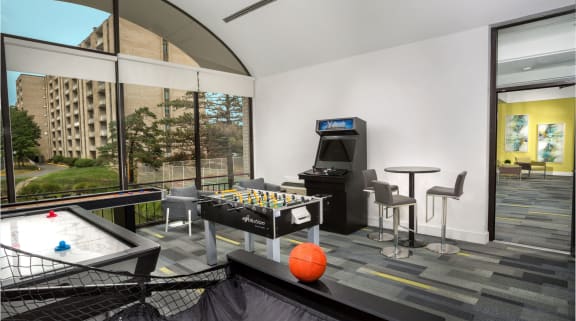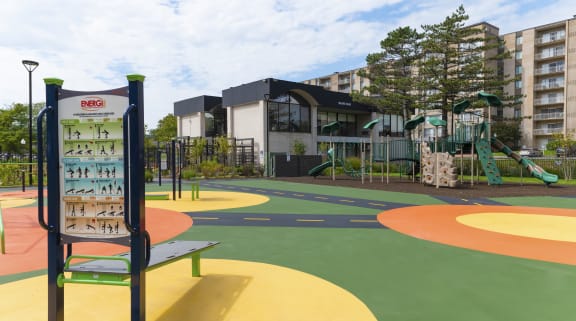 Located in College Park, MD, our apartments offer a peaceful environment surrounded by towering trees. This allows our residents to enjoy the serenity of nature while still benefiting from swift commutes anywhere in town. The best part, however, is the seamless combination of these elements with our community's thoughtful design and attentive amenities.
Each apartment features practical kitchen appliances, ensuring that culinary endeavors are both convenient and enjoyable. Walk-in closets and extra storage options allow for a clutter-free living environment. Also, our units have a patio or a balcony, an ideal addition for those who seek to relax at home.
In terms of community perks, we provide a fitness center with free weights and an outdoor fitness circuit. Free parking is available, too, not to mention that Seven Springs takes your experience a step further by including most utilities in the rent. If you're in the mood for something fun, you can visit the game room or the playground. If you want to relax after a long day and catch up with your neighbors, you can stop by one of the community lounges.
Whether you're a busy parent or a professional on the go, we also have amenities designed to enhance your lifestyle and simplify daily tasks. The on-site daycare offers peace of mind, while the metro bus stop located on-site enables effortless commuting and gives you much more time to focus on what truly matters. Your new life at Seven Springs is truly rewarding!
PHOTO GALLERY
WHERE THE GRASS IS GREENER
As a resident of Seven Springs Apartments, outdoor spaces, thoughtful amenities, and quality services will make each day a delight. Take a look at our photo gallery and schedule an appointment or visit us at 9310 Cherry Hill Road for your personal tour!
FLOOR PLANS
APARTMENTS THAT ARE TAILORED TO YOU
Enjoy the intimacy of a studio or the comfort of a one- or two-bedroom apartment. For those seeking even more space, we also offer three-bedroom apartments with ample room to accommodate your household. Once you've selected your favorite floor plan, give us a call so you can explore our community in person!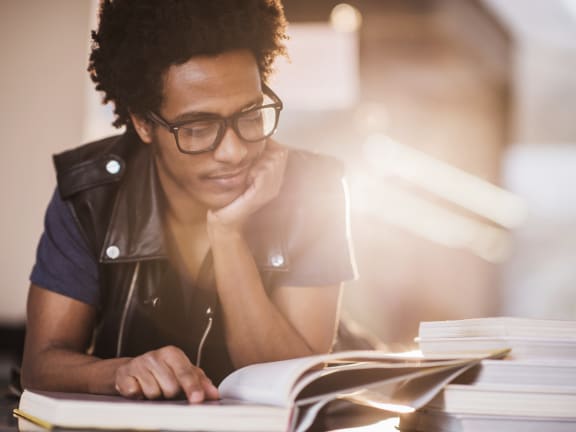 NEIGHBORHOOD
LIFE IN COLLEGE PARK
Seven Springs is ideally located near Cherry Hill Road and Baltimore Avenue, allowing you to reach some of the area's best destinations within minutes. Our apartments are also near UMD and the XFINITY Center, making it effortless for you to get to classes on time and catch exciting events. We're close to popular shopping destinations that include Beltway Plaza Mall, SHOPPERS College Park, and IKEA, while Washington DC is within a comfortable ride.

OUR RESIDENTS LOVE IT HERE
Testimonials
I've had such a great time living at seven spring apartments. I was matched with great roommates and the location is so convenient as it is close to my school. I wake up every morning thinking "I love where I live.

- Seven Springs Resident
I have lived at Seven Springs since 1973. Among the primary reasons I have stayed are the responsiveness of management to my needs and the care taken to maintain the buildings and grounds in a superior manner.

- Seven Springs Resident
Clean. Great View of area. Easy parking. Bus access. Close to College Park campus. When I contact the office for maintenance (over the 10 years I have lived here occasionally I need the maintenance group!) they are very prompt. Excellent documentation. If the maintenance team completes work while I am away they leave a note. Very clean apartment building. Nice neighbors. Great parking and bus access.

- Seven Springs Resident
Professional, friendly, and quick to resolve any issues. Very clean building. Safe. Secure. Excellent Parking. Office answers phone promptly. Great voice mail. Someone always calls back. Service portal system works great too!

- Seven Springs Resident
The rental office staff are professional and hands-on. Throughout my moving process II learned more about the staff because each one made it a easy transition. Martha was my go to and I appreciate her.Overall the community is quiet and there is always available parking. It's convenient to the beltway and shopping.

- Seven Springs Resident
Absolutely wonderful - highly recommend this community. It is extremely convenient to everything you will need - i.e., grocery stores, Walmart, thrift stores, bus transportation comes into the property, close to metro train stations, CVS, Beltway, churches, schools, and lots more - - just too much to list.

- Seven Springs Resident
This is a nice diverse community. The apartment complex is kept neat and tiny. The staff is very professional and responsive to customer service needs of the clients. I am very happy with my neighborhood choice.

- Seven Springs Resident
My moving experience into my new apartment home here at Seven Springs was super easy. Carlos and Martha were exceptional throughout the entire process. Very friendly and informative. Highly recommended!!

- Seven Springs Resident
It is a nice and beautiful neighborhood. It quite and clean. The people and neighbors are friendly. It is accessible to so many amenities and nice restaurants. It's a feel at home place . Home sweet home

- Seven Springs Resident
I have lived in Seven Springs for almost 3 years now. I love the ambience, lush green grass, play areas for the children, barbecue area and gym. There is ample parking no matter what time I come home.

- Seven Springs Resident
Me encanta mi hogar, tengo accesibilidad al parque recreativo, al gym, al autobus, me gusta la atencion, la limpieza de aqui, el area todo es perfecto, mis vecinos tambien es una calidad de personas que me rodean estoy muy satisfecha

- Seven Springs Resident
I am having a best experience so far at Seven Springs Apartment. I have lived at other high rise studio apartments before. I can say so with confidence that Seven Springs apartments, by far, has exceeded my expectations- very comfortable, safe, clean and prompt about any minor repairs issue. I'm extremely pleased about my new home at seven springs. Big thanks to their management as they are truly awesome.

- Seven Springs Resident
I would like to say that I am very happy with Seven Springs apartment. The moving process was very smooth, no stress at all. The apartment is very clean and it's very quiet. We have an Amazing view. The lease office are always helpful.

- Seven Springs Resident
Upscale building, well maintained in downtown college park, that's conveniently located near all grocery stores, pharmacies and gas station. Very clean units, prompt response and extremely friendly residents. Well designed building for privacy, quiet, with docks for easy move in, and great view.

- Seven Springs Resident
Very clean and beautiful designs, accessible from wok to home and vice versa. The recreational facilities are available beautiful for kids to enjoy. The staff is welcoming and answers all the questions I had

- Seven Springs Resident
I have lived in Seven Springs since 1973, and would recommend it to anyone. Management is highly responsive, and facilities are very well maintained. Immediate access to the Beltway and I-95 make commuting less difficult.

- Seven Springs Resident
I was in search of a two bedroom quickly. (3 days) I called on a Wednesday did the paperwork and moved in on a Sunday. Great customer service and very quick with turnaround time. I would recommend these apartments to others.

- Seven Springs Resident
Carlos was very helpful and answered all my questions! He made this process very easy. The day of move in I got my keys and was advised how I could move in my furniture. So far the apartment looks great and I love it

- Seven Springs Resident
Seven springs community is good in their service and maintenance. Bus service is available at every 15 minutes. Nearby market place ( shoppers, Best Buy and some others) and IKEA for furnitures are available within 10 minutes walkable distance. Very pleasant place with good scenery.

- Seven Springs Resident
I have lived in SSV since 1973, and do not expect to move because all of my room, comfort and convenience requirements are being met at a monthly cost I find affordable. The long-term service of the SSV staff, particularly in maintenance, is of great assistance. They all know me. When I call, they come expeditiously. When I visit the office, I can be assured of prompt and helpful attention.

- Seven Springs Resident
It's a great community. Clean environment, trash pick-up on daily basis. Good security. Good maintenance services. Good customer services. Adequate lighting . It's very beautiful and easily accessible. I love it.

- Seven Springs Resident
The community is incredibly clean and everyone from the support staff to facilities staff was incredibly gracious. There is a great variety to choose from when it comes to single living or multiple rooms.

- Seven Springs Resident
Mi experiencia de vivir en este lugar asido muy bueno limpio seguro y las personas muy amables la calidad del mantenimiento es super bien en verano las picinas son seguras y limpias yo recomiendo que son buenos apartamentos

- Residente de Seven Springs
I have lived in Seven Springs since 1973 and have just extended my lease for another year. Rent increases have, thus far, been reasonable, and the surrounding area has convenient shopping, restaurants, movies,etc.

- Seven Springs Resident
My experience thus far has been really great. The atmosphere is peaceful and the staff members and crews are informative and assist with questions and answers. The complex has a Gym and Party Room which is a plus for me. There is a Pool and BBQ grilling area for recreational purposes. Overall a good experience so far

- Seven Springs Resident
Wonderful, clean and safe. Quiet too. I really love this place and the value for my money. I am surprised and glad I chose it. What more can you want but the convenience of this location. It makes it easy to use the bus.

- Seven Springs Resident
Great location, staff always available for maintenance needs. Good communication between office and residents. Parking is good, walking distance to grocery stores, parks, and other convenience places. Very satisfied been resident for 2 years now. Thanks, keep up the good work.

- Seven Springs Resident
My apartment complex is a great place to live and have a lot of amenities to make your stay a pleasant one. I truly enjoy this area and the upkeep of the community. The staff is friendly and very knowledgeable of the community. The maintenance staff is also very kind and always ready to perform any service necessary to complete the task at hand.

- Seven Springs Resident
I have lived in Seven Springs since 1973, in different buildings and apartments. I would recommend these apartments for their room size, kitchen and bath furnishings and overall maintenance level. I have recently signed up for another year.

- Seven Springs Resident
Los apartamentos seven Spring son muy bonitos para vivir con nuestras familias es un lugar muy agradable es un lugar muy tranquilo el personal es muy Amable cuenta con parque para nuestros ni?os picina y en realidad me siento muy bien ser parte de la familia seven Spring selos recomiendo

- Residente de Seven Springs
I have enjoyed living at Seven Springs for the past couple of months. I appreciate the cleanliness and quiet community. I am grateful for the staff who are always responsive and pleasant no matter the request. It's a beautiful and well maintained community. I also appreciate the willingness to honor pricing and specials that are quotes online, unlike many properties I've experienced.

- Seven Springs Resident
I am happy tenant here. The staff is very attentive and professional. The upkeep of the grounds are excellent I would recommend this community to my family and friends. I plan to stay for a very long time.

- Seven Springs Resident
Hello I think I like the most about living here. It's just that it's clean it's peaceful. The people are nice. The Management is nice to leasing office and then management services afterwards. I like the convenience of the bus and I like the fact that it's not that far from downtown and I also like how you know the ground or maintained and I can see like the ducks running around I like the nature. I like the little farms land in the back and overall[,] the weather they keep it so clean and I lov

- Seven Springs Resident
GET IN TOUCH
Interested in visiting our property? Fill out the form or call the number below and we will reach out to you shortly! We look forward to hearing from you!